What is a WiFi Hotspot?
Wi-Fi Hotspot is a kind of connection platform which helps establishing a Wi-Fi network in a limited space area. With the WiFi network, the nearby wireless devices like Android smartphone, iPhone, iPad, laptop/notebook, etc. can have a quick and convenient access to the internet connection shared by the WiFi network.
To make a WiFi hotspot, you can either buy a wireless router or use specific software which helps create WiFi hotspot without wireless router. To buy a wireless router, you may need to pay a expensive cost. However,
WiFi hotspot creator app
can help you save the money and create a free and stable WiFi hotspot on your devices.
Today I will show you
how to use your Windows computer as a free WiFi hotpot
, including laptop/notebook or a desktop that has a working wireless adapter.
How to Use Windows Computer As a WiFi Hotspot - Create WiFi Network on Windows PC
Firstly, you need a WiFi hotspot maker app. There are many such apps on the internet, some of which are paid and the others are free. Here I will recommend the best free app called
OSToto Hotspot
which is easily accessible and open to download on official site (
www.drivehtelife.com
) and most of the download sites, including CNET, Softpedia, MAJORGEEKS, Softonic, Informer Software and so on. It is extremely useful and very popular all across the world.
It is super easy to turn your Windows computer into a WiFi hotspot as long as the internet connection is available and the wireless adapter is working well. Let's start the easy guide!
Step 1: Download and Install the Free WiFi Hotspot Creator Software OSToto Hotspot
You'd better
download OSToto Hotspot
from official site because you can always get the latest version here. After the download is done, click the installer to install it.
Step 2: Turn on WiFi Hotspot When the Installation is Done
The WiFi hotspot will be automatically turned on after OSToto Hotspot is installed and launched. You can disable this option if needed from the Settings. A default SSID (WiFi name) and password (1234567890) will be assigned, you can freely change it by clicking the Edit icon. And you'd better change the password to prevent others from connecting without your permission.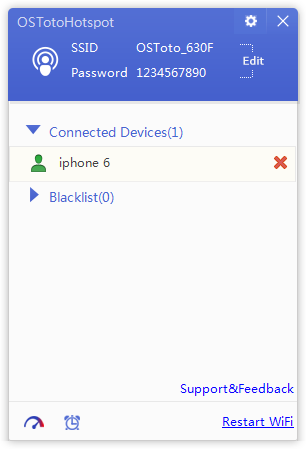 Now the WiFi hotspot creation is done and you can enjoy the free and stable WiFi shared by OSToto Hotspot on your portable devices, such as android mobile phone, Windows tablet, iPhone, iPad, Kindle, laptop or notebook and so on.
What Computer and Mobile Devices are Supported by OSToto Hotspot
All computer with a working wireless card running on Windows 10, Windows 8.1, Windows 8/7/XP/Vista will be compatible with OSToto Hotspot.
Popular laptops used by users are Asus, Dell, Acer, Sony, HP, Toshiba, Lenovo, Samsung, Gateway and more.
Commonly used portable devices are iPhone 6, iPhone 6 Plus, iPhone 5S, 5, 4S; iPad Pro, iPad Air/ Air 2, iPad mini, iPad 4, iPad 3; Samsung Galaxy, Xiaomi, Sony, OPPO, Vivo and more; Kindle, Windows tablet and all that has the function to search for a WiFi network and open the WLAN.
Click here for more solutions to
build WiFi hotspot on the newest Windows 10
.
Tip:
If you are unable to turn on the WiFi hotspot, check if the wireless adapter is working normally. If needed,
update the wireless driver
to fix your problem.